We engage in the following responsible care ("RC") in good faith to comply with Environmental Security Policy.
Maintaining and improving safe and stable operations

We are constantly aware of sources of danger, eliminate any risk, maintain safe and stable operations, as well as striving for further improvement and aiming for no accidents and no incidents, to thereby strive to ensure the safety, comfort and health of the local community and All Executives and Employees.

Contributing to society and environmental conservation

We strive to realize a sustainable society and environment through corporate activities, gather updated safety information regarding the chemical substances and products to be handled, and provide customers, distribution-related parties and All Executives and Employees with appropriate information, thereby striving to reduce the security, safety and environmental burdens in the entire process from product development through to the disposal thereof.
(View details)

Contributing to the local community

Through dialogue and communication activities with the local community regarding security, safety, environmental conservation and health, we cooperate with the local community and thereby contribute to its development.
Product Safety
Basic policy for each plant
Yokkaichi Plant
Chiba Plant
Responsible Care Report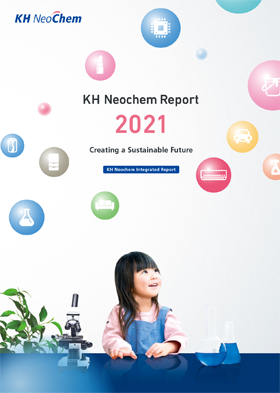 KH Neochem Report 2021(Including an Responsible Care Report)
more(PDF:8MB)
Environmental data
Period covered: April 1, 2020 to March 31, 2021
| | Yokkaichi Plant | Chiba Plant |
| --- | --- | --- |
| Specific energy consumption [L/t] | 231.5 | 215.7 |
| SOx amount released [t] | 0.0 | 0.5 |
| NOx amount released [t] | 262.0 | 21.8 |
| Dust amount released [t] | 3.2 | 1.0 |
| Total effluent discharged [kt] | 4,474 | 1,759 |
| COD amount released [t] | 18.7 | 10.0 |
| T-N amount released [t] | 1.7 | 8.7 |
| T-P amount released [t] | 1.5 | 0.3 |
| Amount of waste generated [t] | 51,154 | 2,484 |
| Amount disposed of as landfill [t] | 130.2 | 2.6 |
Amount of PRTR Act Type 1 designated chemical substances released (Fiscal year 2020)
Period covered: April 1, 2020 to March 31, 2021
Yokkaichi Plant
| Description | Amount[t] |
| --- | --- |
| Water soluble compound of zinc | 1.0 |
| Acetaldehyde | 3.9 |
| 2-Aminoethanol | 2.0 |
| Isobutylaldehyde | 1.8 |
| 2-Ethylhexanoic acid | 0.2 |
| Ethylene oxide | 0.4 |
| Toluene | 0.7 |
| Hydrogen fluoride and its water-soluble salts | 0.7 |
| Boron compounds | 0.1 |
| Phthalic anhydride | 0.2 |
| Dioxins (unit: mg-TEQ) | 6.1 mg-TEQ |
| Others (13 substances) | 0.0 |
*Round off to one decimal place.
Chiba Plant
| Description | Amount[t] |
| --- | --- |
| 2-Aminoethanol | 0.0 |
| Isobutylaldehyde | 0.0 |
| Cobalt and its compounds | 0.7 |
| Decyl alcohol | 0.0 |
| 3,5,5-Trimethyl-1-hexanol | 0.4 |
| Toluene | 0.0 |
| 1-Nonanol | 0.0 |
| Phthalic anhydride | 0.0 |
| Dioxins (unit: mg-TEQ) | 0.0 mg-TEQ |
Emissions to Air and Water
| Fiscal year | 2016 | 2017 | 2018 | 2019 | 2020 |
| --- | --- | --- | --- | --- | --- |
| Air(t) | 5.1 | 4.7 | 4.6 | 3.3 | 3.9 |
| Water(t) | 4.7 | 5.0 | 7.3 | 7.3 | 8.2 |
Industrial Security Initiatives
Action plan for industrial safety
The status of KH Neochem's initiatives regarding the FY2019 "Action Plan for Industrial Safety" put together by the Japan Petrochemical Industry Association is described as follows.
Corporate management's commitment to industrial safety
Basic philosophy and basic guidelines relating to security and safety

On the basis of the Safety fundamentals that (1) safety is the foundation of company management and (2) Safety is obtained through participation, awareness, and effort from all, the president has established our RC Program Policy and Fundamental Policy for Safety Management and is promoting an RC program that includes safety management activities.

Allocation of resources to industrial safety

Human resources: We are acting to rehire employees who have resigned on reaching the mandatory retirement age and having them pass on their technology to younger employees. We are hiring human resources with a focus on our concept for future personnel.
Maintenance and equipment investment: We conduct systematic inspections of exterior surface corrosion for the purpose of preventive maintenance.
Setting industrial safety targets
Targets of zero work-related accidents, zero safety-related accidents, zero environmental accidents, zero compliance violations, and trouble reduction have been set.
Formulation of implementation plans for industrial safety measures
Risk assessment (RA)

We conduct risk assessments that extend to [1] risk and hazard factors that can be anticipated to result in work-related accidents, [2] risk prediction activities making use of "hiyari hatto," close call recognition, and "kigakari memos," [3] matters of concern during the startup of new processes (potential risks in a plant and problems in operation), and [4] irregular situations and times of emergency.

Education and training for human resource development

We identify the potential impact of deviations from the plant operating procedures as well as the potential risks in the plant, and make use of these findings for technical training for young employees.
We are conducting technical training to develop understanding of basic technology, carrying on education using educational materials and equipment, and conducting training for emergency scenarios as well as emergency reporting drills.
We have established an education center and clarified the plant education system and education contents (level-specific education, education for qualification, etc.).

Active use of accident information

For accidents that occur within the company, as well as for other risk situations, we survey and investigate the causes and discuss whether there are any problems with the corrective measures taken. For accidents that occur at other companies, accident information that can be considered to have similarities with our facilities is subjected to accident case studies. In this way we make every effort to heighten the safety awareness of our employees, taking action to prevent the occurrence of similar problems.

Organizational management

Technical study groups meet every month, and our corporate headquarters and our plants keep in close contact to pass on information.
Liaison conferences of our three main business groups are held as necessary, and steps are taken for coordination and communication between all of the groups.

Equipment maintenance and measures against deterioration

We conduct systematic inspections of exterior surface corrosion for the purpose of preventive maintenance.

Voluntary earthquake-resistance diagnosis of existing piping systems in high pressure gas facilities

In our capacity as high pressure gas accreditation inspectors, we assign priorities and carry out earthquake-resistance diagnosis of existing piping systems, though only at critical Category Ⅲ facilities.

Adoption of new techniques and technology to enhance safety

We are incorporating advanced control programs in our operations management and taking steps to achieve further stability of our plants.
We have introduced residual life evaluation for high-voltage motors.

Implementation of safety management that also includes cooperating companies

We are conducting education and training for construction site supervisors, construction workers, transportation operations managers, transport crew members, and other such personnel.
We have established safety cooperation councils in order to realize smooth operations, upgrading the safety of construction work done in our plants and work related to physical distribution.
Our cooperating companies also participate actively in risk prediction activities by means of "hiyari hatto," close call recognition, and "kigakari memo," memos on matters of concern.
Surveys, evaluations of achievement status of targets, and implementation status of measures
The Environmental and Safety Committee, which is chaired by the president, meets once a year to hear and evaluate reports on the status of progress toward targets and the results of activities related to priority measures.
The Committee sets the RC activity targets and priority measures for the next fiscal year.
Measures to promote autonomous safety activities (Cultivation of safety culture)
We give points for improvement proposals from employees, and award top groups with high per-person scores.
The operating facilities organize seminars with outside speakers.
They also participate in conferences, study groups, and other such events organized elsewhere.
Making use of knowledge from outside the company
The Yokkaichi Plant and Chiba Plant underwent safety capability evaluations by a third-party organization (the Japan Society for Safety Engineering).
Taking the findings into consideration, the RC Program has assigned priority to addressing matters that are indicated as weaknesses and, of those matters, dealing in particular with matters that need to be addressed by the company as a whole.
Risk communication with regions, communities, and so on
We participate in the Chiba district and Yokkaichi district RC regional dialogue that is held every two years.
Every year, we hold voluntary cleanup activities of roads around our plants.
We recruit volunteers from all of our facilities to conduct company-wide social contribution activities related to our business in the local communities of both plants.
At both of our plants, we hold plant tours to which we invite teachers, students and children from nearby educational institutions.
Measures to help prevent industrial accidents caused by natural disasters such as earthquakes and tsunami
We have revised relevant documents in preparation for occurrence of a Tokai region earthquake or other Nankai Trough earthquake and have taken steps to improve responses to tsunami.
Based on the most influential, 2011 edition of the tsunami inundation forecast published by Mie Prefecture, we have evaluated the phenomenon of tanks floating and drifting during flooding, and have taken measures to respond by changing the level of liquid surface to be managed and by manually closing the master valves on tanks.
We hold evacuation drills on earthquake and tsunami scenarios at both of our plants.