KH Neochem provides many distinctive products in a variety of fields. We have established safety fundamentals and an environmental fundamental policy in order to continue being a chemical manufacturer that supports the global environment and comfortable lives, and as a corporation, we implement business activities that focus first on fulfilling our social responsibility.
Building upon the trust with stakeholders, including our customers and the local community, we endeavor to exist in harmony with society by creating products that are safe and environmentally friendly. The most important thing asked of chemical manufacturers is to operate safe plants, and therefore we work towards ensuring safe and secure operations by carefully following our fundamental policies for safety management.
Safety fundamentals
Safety is the foundation of our company management.
Safety is obtained through participation, awareness, and effort from all.
Environmental policy
Consideration for the environment is an important issue for our company management.
We will contribute to global conservation through our business activities.
Fundamental policies for safety management
We will unfailingly comply with all that we have decided based on compliance with all laws and regulations regarding safety.
We will work towards preventing accidents by always looking out for danger.
We aim to improve our safety management level through constant improvement of the safety management system.
We work on training and education to promote the safety activities from our employees and other related personell.
Yokkaichi Plant
Chiba Plant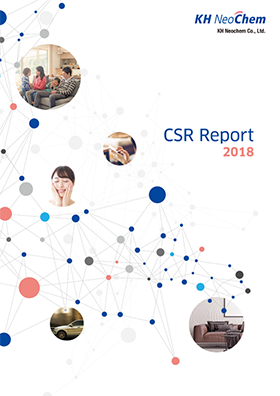 CSR Report 2018(Including an environmental report)
more
(PDF:7MB)
CSR Report 2017(PDF:10MB)